East Asia Management University (EAMU)
is a private international university established in 2019 with a city campus in Phnom Penh, Cambodia. It is one of East Asia Education Group (EAEG) educational institutions which operates across the ASEAN, India and China region, anchored by its ­flagship, the highly acclaimed East Asia Institute of Management (EAIM) in Singapore.
Since its inception in 2002, EAIM (previously aka East Asia School of Business) has worked in collaborative partnership with well-established and good ranking UK universities, producing well over 6,800 degree graduates. These degrees awarded are validated and accredited by our UK university partners and registered and approved by the Ministry of Education (MOE) Singapore, a strong testimony of its rigorous academic standard and quality education.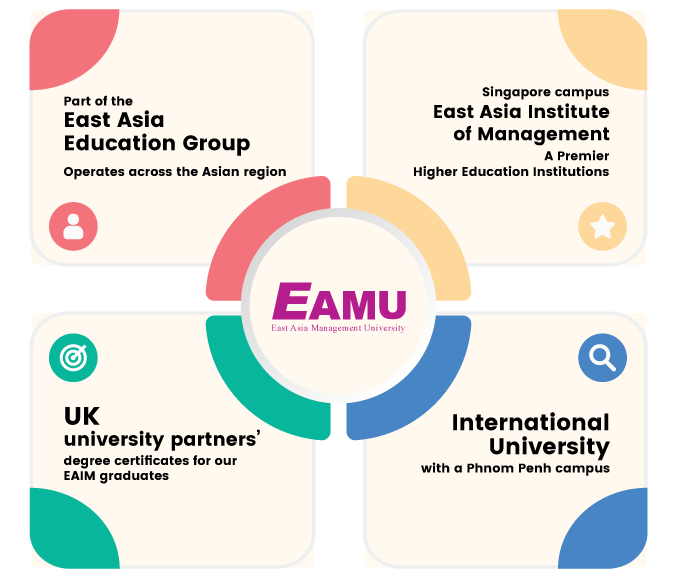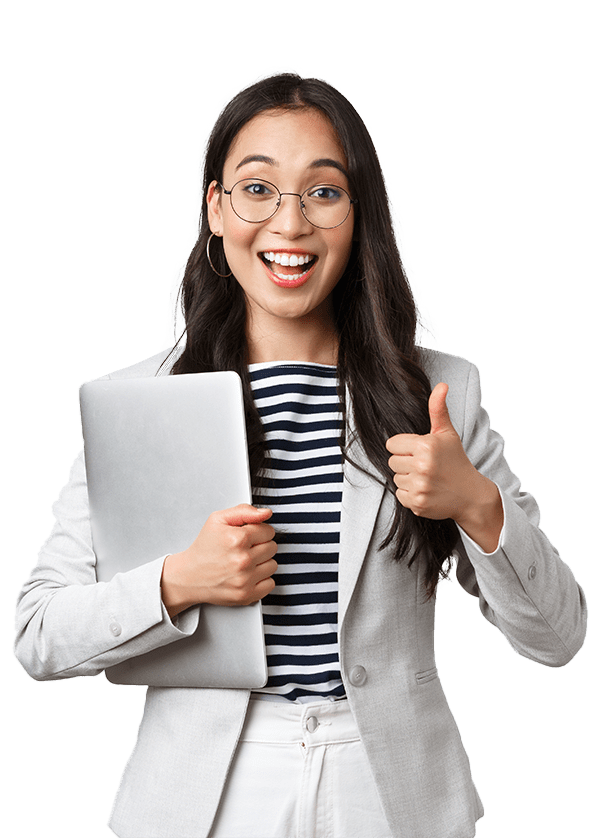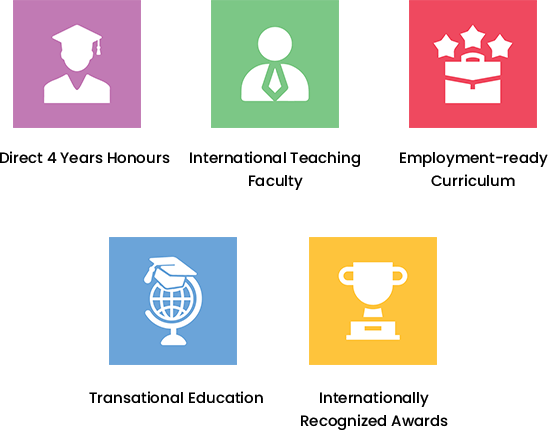 Our Collaborative Partners        
2022 Students
2021 Students
It might be overwhelming as you transit from high school to university, having to face many different things all at once. With caring and thoughtful staff members, EAMU has helped me a lot through this experience. The staffs are always there to assist you in every way possible. Furthermore, thanks to the foundation year pro- gram, I was able to get to know more about myself on what subject matter I'm more passion- ate about. Clean facilities and a great environ- ment make it more enjoyable to study. Last but not least, great people with unique personalities, I look forward to going to school every day.
Nguon Kimheng
Year 1 Student 2022
Studying at EAMU has brought about a positive change in me. From being a quiet girl to a confident outspoken person. EAMU has given me multiple opportunities to get myself out of my comfort zone. The school hones both her students' hard skills and soft skills. It presents a style of learning that engages the students actively, pushes us to speak more and share our thoughts. It does not limit the creativity of a student but instead embrace it. Though I did have a hard time at first as I would have butterflies in my stomach whenever I need to speak up, I gradually become better at giving speeches. I am also grateful for all these new friends who supported me in my foundation year journey. Moreover, EAMU has organized many social events for students to participate in which allows us to learn beyond what we could in the classroom, like hosting talks, as speakers or getting us involved in organizing events. In short, what I love about EAMU is how they do not just train us to be competent but prepare us to be ready for work in an organization.
Vathna thavary
Year 1 Student 2022
It was a very great experience for me as a university student to have studied my foundation year at EAMU. Life has changed so much for me. I started to explore and realize that there are so many things in the outside world. Moreover, I also learned how to make connections and relations with other people such as classmates, seniors, staffs, and lecturers. I can't wait to see my junior who will finish high school soon. One of the most memorable things was the experience of being a leader of a sports club. In this position, I have learned how to organize events, create activities, and solve problems. Thanks to EAMU for giving me this opportunity. Furthermore, there were also tons of support from staffs and lecturers that help me in all the activities and also my study. These are my great experiences at EAMU. Wanna have the same experiences as me? Come to EAMU!!
Khov Sanusy
Year 1 Student 2022
The Foundation studies at EAMU was very interesting. Some of the lessons were things that I already knew but others were new that I had not learned before, like Study Skill, Accounting, Management and Business. The University has many facilities like the library, gym and the game room are something my old school doesn't have. The lecturer and staff are nice and help answer many of my questions when I ask them and help me in finishing my assignment. I also engaged in many new activities every month like helping the staff or volunteering. This have taught me many things and improve myself.
Hang Sothrithychey
Year 1 Student 2022
My experience at East Asia Management University has been very remarkable. With EAMU, I am able to go on with the career goals I have. Due to the short duration of EAMU's existence, people around me have always questioned my decision on enrolling at this institution. However, with one year of schooling, I am able to say that this university is trustworthy and gives excellent quality. Having said that, I am extremely grateful to EAMU, as this institution not only taught me about the ideas in the book, but also provided me with practical life experiences to enhance the student for the real world and put our studies into action. In addition, the school's excellent facilities made it easier for me to study, particularly the library's extensive collection of books and eBooks. Not to mention, I have met fantastic people at this institution from professional professors to staff members and classmates. Everyone has been extremely kind and always willing to lend a hand when I needed assistance. With all these incredible facilities and people, I have always looked forward to attend my university every day.
Luy Sovanliza
Year 1 Student 2022
EAMU is a place where you can find the highest education in Cambodia. For all challengers, this is where you get to discover your limit and potential. Lecturers are knowledgeable and equipped with specialized skills on a certain major. In addition, the staffs are so very helpful and professional that they are able to deliver their service and profession with ease to the students. EAMU has changed my perspective on our fast changing world by training us and get us ready to ride onto the next wave of success. Join EAMU!
Tan Vireak Punhakvornt
Year 1 Student 2022
I have made many memorable moments during my time with EAMU and all of the memories are mostly filled with joyful and learning moments. Especially, the knowledge which I got from the university is going to be very useful for me to utilize in my future career as well. My academic experience here is very unique compared to my time at high school since I've got to indulge myself in lots of activities. Moreover, I got to express myself fully throughout my whole learning journey here as well. I have got to meet many supportive people which I am glad that they could be my friends and I am a friend to them as well. There is a famous saying which goes "You wait for time, but time won't wait for you", so what are you waiting for? Come join EAMU.
Chann Sophea
Year 1 Student 2022
Choosing to study at East Asia Management University was the best choice I have ever made. I really enjoy learning the degree foun- dation here at EAMU, even though it is just a first-year study. I am pretty sure that the skills I have learned will be beneficial in the up- coming years. In addition, the curriculum here at EAMU is set up for students to become active learners; it helps students develop their critical thinking skills, builds their self-confidence, promotes problem-solving skills, and makes the course much more fun and exciting for students to learn. I also get to know new university friends who are not the typical discriminating, rich kid type but just completely incredible, sensible, generous funny, and supportive people. Overall studying here at EAMU really makes me feel like I am studying overseas.
Eav Kirilundi
Year 1 Student 2022
Studying at EAMU is the most wonderful experience ever! I have learned so many things while having fun at the same time. Not only I become a better version of myself, I also becoming more intelligent, sociable, and confidence. Studying at a university where I feel like home actually helping me to cope with all the stresses. EAMU is as well concerned about our mental health providing all the emotional support by having a counselor at the university which is not many schools have done it before.
Veth Saphya
Year 2 Student 2021
Foundation year at East Asia Management University (EAMU) was unlike anything I have ever experienced before in high school. I love the way the courses were organized and how the university manage to do such an incredible job in teaching us despite during the global pandemic. Additionally, I really enjoy learning all the courses during foundation year not only because they will help me in my future employment, but they are all essential skills to have in the modern era. Beside my learning experience, I have met a group of people that would later turn out to be a very encouraging group of friends. Overall, it was a marvelous experience studying at EAMU.
Rouy Ai Ling
Year 2 Student 2021
It was the best first year of my life in EAMU. The opportunities I had there, the things I got to do and the time I spent with my friends were great. The versatility of the 10 modules really broadened my thinking. The actual projects and assignments I did during the course taught me a lot about the soft and hard skill, not just in theory but also in practice. I feel so much more heard and loved as an international student because of EAMU!
Soth Puthipisey
Year 2 Student 2021
It was a great experience studying at East Asia Management University, great memories to look back on, experience of a life time. Academic experience was exceeding all of my expectation, with International standard making my education reaching new height. Furthermore, great support from the school in both normal curriculum, and mental health support adapting into new environment of study. Finally, getting to meet a new group of friends who are very supportive like family, so looking for great education and environment? EAMU is the place to be!
Lao Kimtong
Year 2 Student 2021
It is a great experience studying at East Asia Management University, a memory to cherish for lifetime. My experience at University was full of learning and grooming. Being a international university It gave me an opportunity to meet different kind of people and learnt many things from them. I am thankful to all the faculties, mentors and all department for providing us with quality education. Overall it was a great experience and lifetime memory at East Asia Management University. In the last I'm saying that The World is here at East Asia Management University.
Chea Sokpiseth
Year 2 Student 2021
It was a life-changing experience for me to have studied my first academic year at EAMU. It gave me the opportunity to meet my other 6 playful yet competitive friends and I am very thankful for the lecturers and staff for always being patient and forgiving. Lastly, I am very grateful for the school facilities which are very helpful for my learning. Overall, this will be my lifetime experience and memory.
Sok Sariya
Year 2 Student 2021
East Asia Management University has helped change me a lot, even it is in the foundation year only. My overall experience for this first year was amazing as well as I've gotten to know a group of small friends which is the best part for me. The standard of this university provides the international program which drives me to improve a lot in both academic and communication skills. Moreover, the business program here in EAMU allowed me to participate with a lot of new things that I have never experienced before which suits my needs and make me realize that I have chosen the right degree university.
Raksmey Chanpisey
Year 2 Student 2021
Start your journey with EAMU today.
Contact us for more information.