Logistics and Suppy Chain
BSc (Hons) Logistics and Supply Chain Management
Programme Introduction
The logistics and supply chain industry is an important driver of economic growth, and is increasingly important in today's globalisation and ecommerce evolution. The important roles of transportation and communication of economic activities cannot be overemphasized. This program is designed to provide students with knowledge in purchase and procurement, supply chain management, warehouses and distribution centres management, along with an understanding of global supply chain constraints as well as the legal implications.
The programme in Logistics and Supply Chain Management (LSCM) is offered to equip students with the technical knowledge and skills to commence and upgrade their career prospects in a dynamic industry of logistics.  It is practical-based in nature which seeks to equip students with the technical aspects of logistic and supply chain management. It covers subjects like Transport Management, Warehousing Management, E-Commerce with Logistics, Project Management and Project Work, Supply Chain operations and other useful subjects in business.
Programme Learning Outcomes
A. Knowledge
PLO1.Graduates gain a good understanding of the hospitality and tourism sector within the context of the local and global business environments;
PLO2. Gain a good understanding on the interrelatedness and dynamics between hospitality establishments (including MICE) and tourism attractions as an economic driver for a country;
PL03. Equip graduates with sound functional understanding of the roles and responsibilities of key operational departments in a hotel establishment to be effective contributors as individuals and in teams;
PLO4. Develop a deep appreciation of the roles and responsibilities of supervisors and managers in a hotel establishment.
B. Cognitive Skills
PLO5. Demonstrate the ability to retain and deploy the knowledge and skills taught in lessons and practices with attention to details;
PLO6. Demonstrate the ability to apply knowledge and skills with confidence and professionalism in practical training situations and in real-life internship conditions.
PLO7. Demonstrate good analytical and evaluative skills to solve structured and situational issues and problems through critical thinking, and logical sound reasoning;   
C. Interpersonal Skills and Responsibility
PLO8. Demonstrate effective communication and interpersonal skills to influence and operate as a team leader;
PLO9. Display good personal discipline, time management and teamwork skills to achieve desired outcomes (shown in assessment results).
To enter EAMU, students are required to provide the required documents and meet the criteria for admission as follows:
a) Admission documents requirements
Completed Application Form
Payment of application fee
Copy of Baccalaureate/Certificate of National High School Exam/Equivalent Certificate (Officially stamped & approved by communal authority)
Copy of Transcripts
Copy of IELTS/TOEFL/Equivalent English Proficiency Certificate (if any)
Copy of Birth Certificate/National ID
Copy of Passport for International students or Below age of 18
Recent Passport-size (4×6) Photographs (at the back is written with name and birth of date
b) Academic requirements for admission to Year 1
Possess a Pass in the National Bac II Qualification;
OR
Hold an equivalent certificate to High School level e.g. GCE 'A' level.
AND
Attain a minimum English proficiency of IELTS 5.5 or equivalent e.g. TOEFL or Cambridge English accepted to gain direct entry into Year 1 of degree course.
The Alternate student admission pathway entry requirements are directed at matured adults who have acquired sufficient working experience and competencies to contribute in quality learning in the classrooms.
Obtain at least a Year 10 certificate with minimum 'C' average;
AND
At least 8 years of working experience with at least 3 years at supervisory or managerial level.
AND
English Proficiency of IELTS 5.5 or equivalent.
AND
Attend an interview with Head of school to determine suitability
c) Academic requirements for Transfer-in students into Year 2
Possess an accredited Degree Foundation Year certificate;
AND
Attain a minimum English proficiency of IELTS 6.0 or equivalent
AND
Attain an English proficiency of IELTS 5.5 before entering the Foundation Year course in the previous institution, AND complete a full year of Foundation year study in English medium
*Note: all Transfer-in applications need to be approved by MoEYS and may result in additional bridging subjects of Year 1 before proceeding or concurrent to Year 2 degree program.
Conditions for obtaining a degree
Students must successfully complete all subjects and achieve the total number of credits required by the program; AND
Write and present the Honours Thesis Defense report successfully; AND
Take and pass the Exit/state examination.
Graduates of this degree is equipped with the necessary knowledge, skills and practical expertise to work in a wide range of industries and in both public and private sectors. Our LSCM degree graduates can work in either the manufacturing or service organisations in positions such as:

Purchasing agent/ manager





Storage and distribution manager

Shipping manager (Air, Land and Sea)

Freight and Delivery manager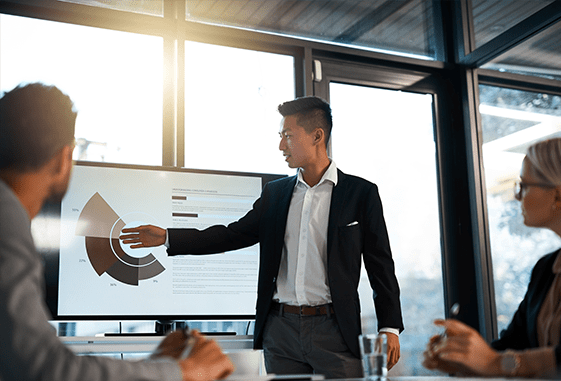 For career
✓ The cooperate world wants graduates only
✓ Essential knowledge and skills
✓ Job prospects, Career Better income
✓ Management and business skills
For self-development and improvements
✓ Self confidence and resilience
✓ Independence and critical thinking
✓ Better social and communication skills
Start your journey with EAMU today.
Contact us for more information.
English Preparatoty Class
Business Information System
Logistic and Supply Chain